The weather is getting cooler, I no longer have time for cooking 'exciting' meals, and I wake up with the sun once again - Ah, yes, it is September already! I have a wonderful new set of Grade 2's, eager to learn...(well, mostly) and a freshly decorated classroom ready for full use! While I kind of disappeared for a while in August, I am back ready more than ever to blog! :) By the end of this week I hope to have pictures up of my Safari Themed classroom. While it may be too late to post these pictures for any of those who were itching for helpful ideas, you never know what you could add to your classroom in later weeks :).
As for today, I want to blog about the children's books that I have decided to use in my classroom for the beginning of this school year. I found it difficult to know which books to chose, but after much research I think the ones I chose are working well. While the first day book may no longer apply to you, the others will still work well for the month of September.
Back to School Rules by Laurie Friedman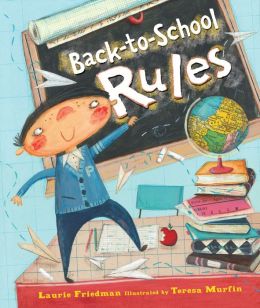 This book is an excellent choice for the first day of school as it is a fun hook to talking about the classroom and school rules with the students. Talking about rules can be 'a real drag' on the first day of school, so I am always looking for ways to spice it up a bit. It was a fun way to start the talk and thinking about ways for a good student to act!
How I Spent My Summer Vacation by Mark Teague
I like to make a point of talking about the summer vacation with my students the first week (As I am sure many of you do) As my students are writing journal entries about their summer vacations, I plan on reading this book to the class before the students share their journal entries with the class. If nothing else, it is simply a great book for a laugh, and to get the students' imaginations rolling.
My Mouth is a Volcano by Julia Cook
I have some wonderful, imaginative, and excitable talkers in my class this year. This book is a great way to help students understand the importance of not speaking out when you are not supposed to. As an activity to go with it, I found a great idea at
Thank God It's First Grade
.
Recess Queen by Alexis O'Neill
Recess is a time where bullying and mistreating others can happen easier than in the classroom. To remind students the importance of treating each other with respect, this book is a great one to read. It is not only good to to read at the beginning of school year, but any time it seems that there is some bullying during recess time. Post-reading I would chose to do a type of group activity as opposed to a writing assignment, as I feel this would be most effective for such a book. There are some great ideas found
here
for discussion and group activities.
You Are Special by Max Lucado
This is another book that is great to read both at the beginning of the year and if your class struggles with bullying or self-confidence. This book can also be found on Youtube:
You Are Special by Max Lucado
Hope these helped you with some ideas and here's to a smooth, sailing year ahead! ;)